2
Coco is Disney and Pixar's Newest Hit Movie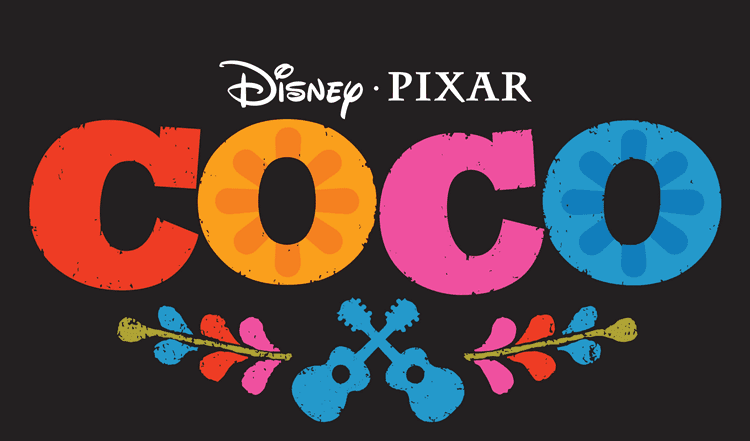 So what is Favorite Grampy to do when he gets some free tickets for an advanced screening of Disney & Pixar's newest animated film Coco and the grandkids are at Disney World without him? Well, go find some replacement grandchildren of course!
I made some calls and in no time I had rounded up three "adopted" grandkids ranging in ages from 8 to 26. With my three newly acquired children and Grandma, we all headed to the theater to see Coco. We were all excited and ready to see the new Disney movie.
Long Line to See Coco!
We made sure to get to the AMC  theater at Tysons Corner early to get good seats but apparently it wasn't early enough. As we were walking up to the theater we saw that there was already a line. A very long line.
Discouraged we headed to the very back of the line and hoped we would not have to sit in the front row of the theater. Just then someone that looked they there were in charge came by. I showed her my pass and asked if we were in the correct line.
"Oh, Favorite Grampy, she said, "you have some very special tickets. You are a VIP Guest. You don't need to wait in this long line. You can go right in."
Keeping my shock and disbelief to myself, I made it look as if this was an everyday occurrence and waived to Grandma and my adopted grandkids to follow me.  Our escort promptly unlatched the rope barrier for us and allowed us in the theater.
SCORE!!!
Hot Buttered Movie Popcorn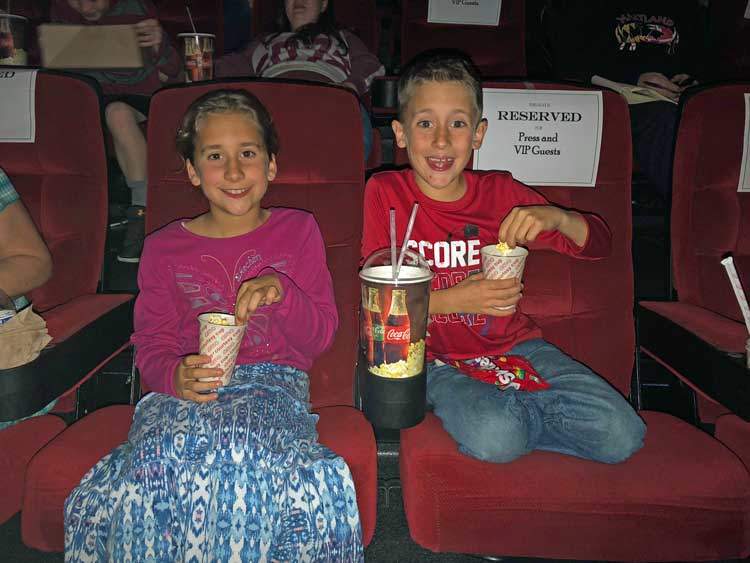 Since Favorite Grampy likes to eat, our first stop was the concession stand. We loaded up with buttered popcorn, hot dogs, candy and soda.  I always like to make sure the kids get their fill of sugar and caffeine before I return them to their parents. That's why the kids say I'm the Favorite Grampy. That and I make them say it.
We made our way to our seats which were the best in the theater if I may add.
After a while and half a bucket of popcorn, the lights went down, the opening Disney Castle sequence rolled and the movie Coco started to play.
Within minutes the characters came to life and I knew this was going to be another Disney blockbuster on the level of Up and Toy Story.
It is very evident that Disney spent a lot of time researching the Mexican culture and it shows right down to Abuelita (Grandma), taking off her shoe to hit someone and plates full of Mexican sweet bread. I should know because I am Hispanic and the movie was spot on.
I can remember my Grandma taking off her chancla (shoe) and chasing my brother and sister. Not me of course because back then I was the Favorite Child. I was a good boy for my Abuelita.
To this day any time I go visit my relatives there is always a plate of Mexican bread on the table. See if you can count how many plates of bread you see in Coco on tables.
Coco the Movie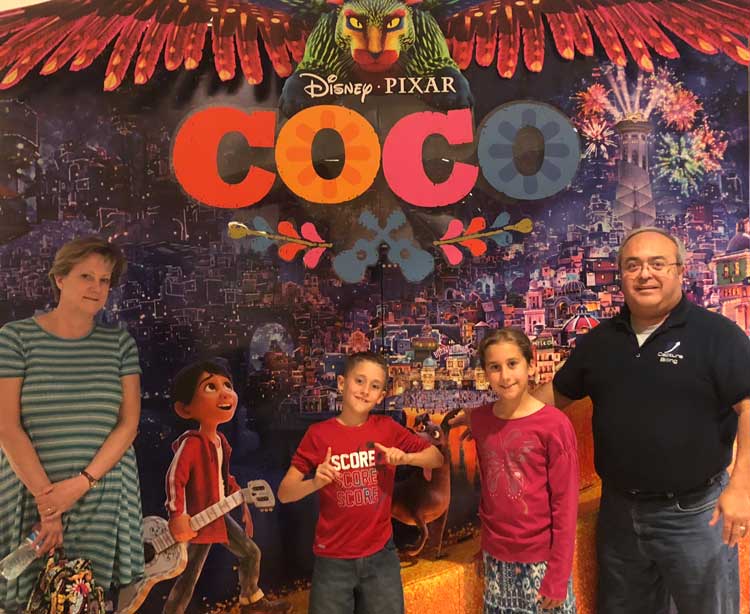 So what is Coco about? Well, I don't want to give any of it away but what I will say is that it is about a family that unlocks the real story behind their family history.
You see, Great Grandma's father was the greatest musician of all time but one day he left with his guitar and never returned. Because of that incident that happened generations ago, the family thinks music is a curse.
Now Miguel, our hero, loves music but his family doesn't understand that he wants to be a musician just like his great-great-grandfather. Miguel wants to follow his dream and that journey takes him, and us, to the stunning and colorful Land of the Dead.
In Mexican culture, once a year the ancestors come back to our world, the Land of the Living, from the Land of the Dead, to see family and friends. This is called Dia de los Muertos, Day of the Dead. It's a day to celebrate and remember loved ones. We are all a part of those that came before us.
That is all I am telling you other than Coco will play on your heartstrings.
The animation in Coco will blow you away. It has by far the best animation I have seen. It is unbelievable. The colors are vibrant and even the water is amazing. Oh, and maybe it was just me but the entrance to the Land of the Dead sure reminded me of the entrance to the Magic Kingdom.
Like all Disney movies, the music is memorable with songs like "Remember Me", "Un Poco Loco" which is my favorite, and "The World Es Mi Familia."
No Scary Skeletons in Coco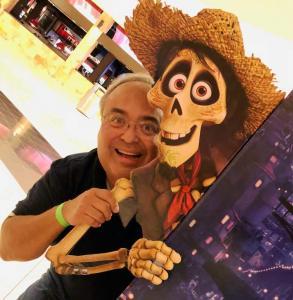 There are lots of skeletons in Coco which is to be expected since you do go to the Land of the Dead. One of the adopted grandchildren I took was a little scared of skeletons. He only knew of scary skeletons so he was a little apprehensive about seeing Coco but he never saw skeletons like these before.
These skeletons aren't scary. They are the opposite of scary. They are colorful, funny and make you laugh. They are not scary at all.  Although they did make Favorite Grampy and Grammy cry.
Thoughts from Three Generations of Viewers
So what did the kids think about Coco? They loved it.  They thought the skeletons were funny and they liked the family aspects of the movie. They laughed a lot.  The 26-year-old Millennial thought the animation was outstanding, the story was good and that it is definitely worth the watch. He wants to go again. I do too.
Favorite Grampy says Coco is a must-see film.  It is truly a movie that grandparents, parents, and children will all enjoy.
I suggest you take a box of tissues when you go see the movie.  I don't know how Disney and Pixar does it, but they breathe life into those animated characters.  You feel what they feel and laugh and cry as they do.
I am going to take the real grandkids to go see Coco as soon as I can. I will get them lots of candy and soda too.
One Final Thought
Do I see a makeover of the Mexico Pavilion at EPCOT's World Showcase in the future? Will the Grand Fiesta Tour boat ride become Coco's Journey Through The Land of The Dead?  I was just at Walt Disney World and there was already lots of Coco merchandise. We shall see.
Coco Update (After Opening)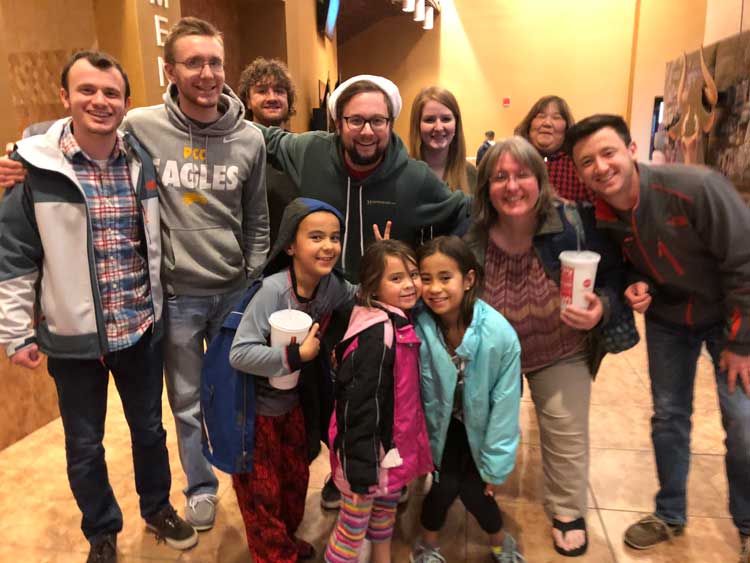 Well not only did Favorite Grampy later take the real grandkids to see Coco but also took a few more adopted grandchildren to share the movie.
Coco was just as awesome the second time. It was one of the adopted kids third time watching the movie. That's got to tell you it was good.
I ended up sitting between two of my grandkids, Jake, the 8 year old, and Pie, who is 6. In last quarter of Coco, there is a very poignant scene about family and love. During that very special scene, Jake leaned over, grabbed my arm and put his head on my shoulder. A few moments later Pie got up off of her seat and came to sit on my lap. It seems that even at that young age they understood the dialog of the story which talked about the bonds between family and the love they share.  I'm not sure if they were crying but I sure was.
As the movie finished and we were walking out of the theater Pie looks up at me and says, "Grampy, I'll remember you."  My heart melted.