3
Disney On Ice – Dare To Dream: Our Magical Experience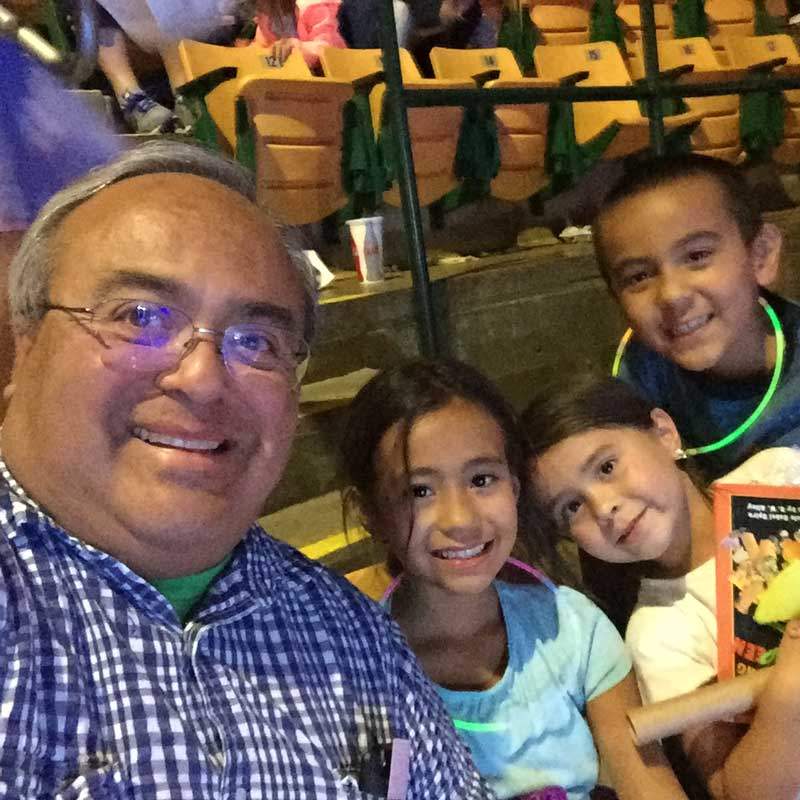 When Favorite Grampy popped in to see the grandkids one evening they had no idea that they were going to be part of a magical surprise. You see, I had prearranged the details of picking up the grandchildren with their mother a few weeks prior.
So the kids didn't know why I was there or where I was taking them as I piled them into the car and we started on our way to a mysterious unknown destination. All the kids knew was that I was playing the song How Far I'll Go from Disney's Moana, with an occasional "Let it Go" from Frozen, over and over again as we drove down the road.
As I pulled up to the arena, they finally guessed that I was taking them to Disney On Ice: Dare To Dream. The car immediately erupted with shouts of joy praising Favorite Grampy and excitement to see Disney On Ice and all the Disney characters. Well, maybe they were more excited about Disney but it's my story.
Fun Before the Show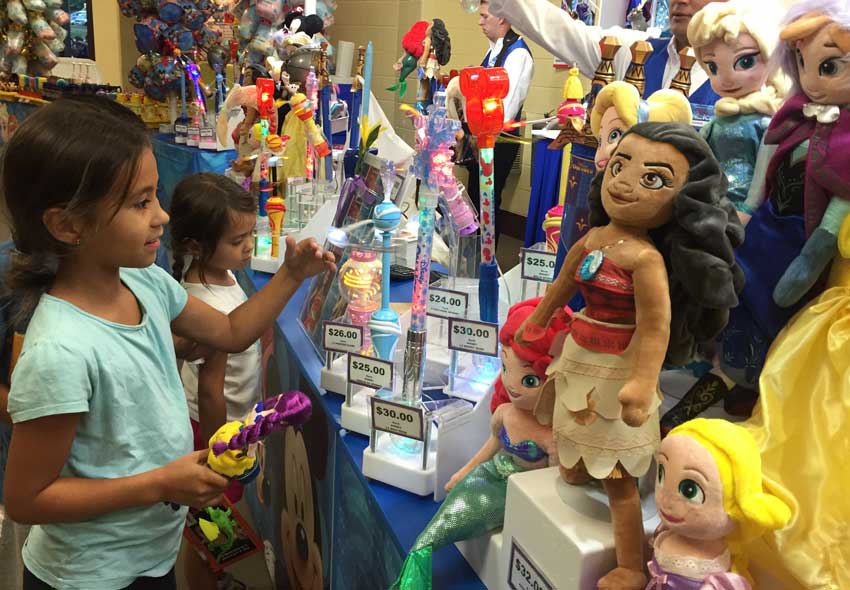 I wanted to make sure we had plenty of time to check out the Disney vendors and food so we got to the arena early. I am sure glad we did.  There were booths full of fun Disney merchandise and souvenirs like light up wands, toys that twirl, princess dolls, and Maui's hook.  You could take pictures with Mickey and Minnie at the photo booths and even get your face painted.  The kids were having loads of fun going from booth to booth seeing and playing with all the cool Disney toys.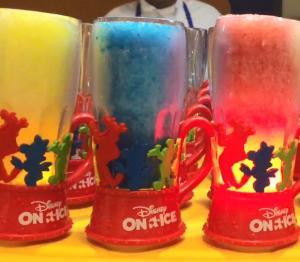 The food and snacks were awesome. There was cotton candy that came with a crown and popcorn in Disney bags. The kids really liked the Disney mugs that lit up and were filled with multi-colored snow cones. Since Favorite Grampy had Grammy's credit card that he snagged before he left home, we loaded up with popcorn, cotton candy, pretzels, sodas and plenty of Disney souvenirs for each kid and headed to our seats.
There was one thing I should have thought of that the grandkids would have loved to do. I noticed lots of kids were dressed up as Disney Princesses and other Disney characters.  Next time when I surprise the grandkids I need to remember to coordinate with their mother and bring their costumes. They would have liked dressing up. Hey, I would have liked dressing up.
Disney on Ice: Dare to Dream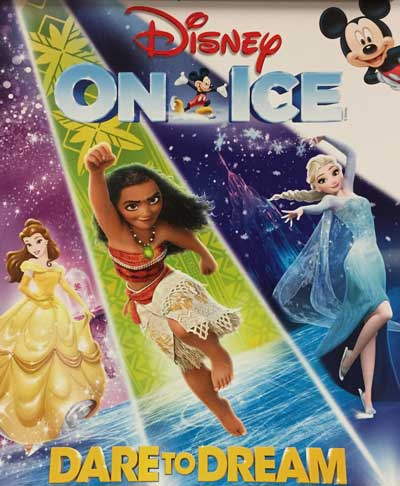 As show time drew closer the kids were bubbling with anticipation. Suddenly, the lights went down, the music came up, Disney Characters came out on to the ice and the whole arena was transported into that magical world where wishes come true.
When Mickey and Minnie came out to open the show the whole place erupted in thunderous applause and cheers. From that point on we were all in our happy place.
We were ready to enjoy the five amazing acts to come based on some of Disney's most popular animated movies including for the first time on ice, Moana.
Beauty and the Beast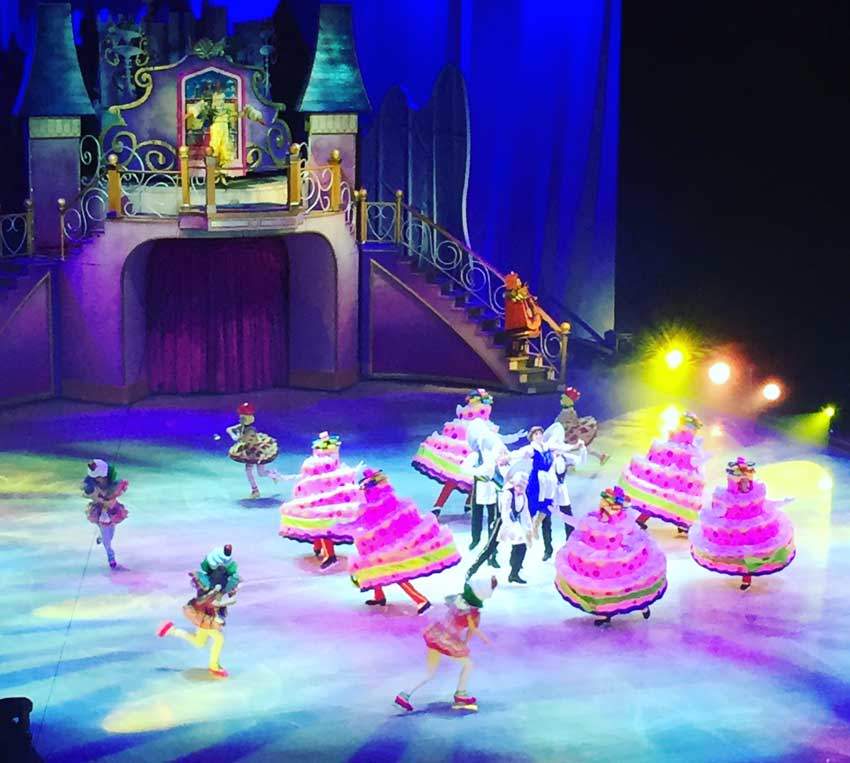 The first act was Beauty and the Beast. One of my most favorite Disney animated movies. The Be Our Guest number was fantastic. Next time you go to the Magic Kingdom at Walt Disney World Resort you must get reservations to Be Our Guest Restaurant in Fantasyland. When there make sure you order the Gray Stuff for dessert. The kids and I have tried the Gray Stuff and it is delicious.
Cinderella
Next up was Cinderella. Cinderella and Prince Charming dancing at the ball were great.  Wait until you see Cinderella's carriage, it was spectacular.
The kids were laughing when the Stepmother and Stepsisters fought and rolled around the ice. It was hilarious.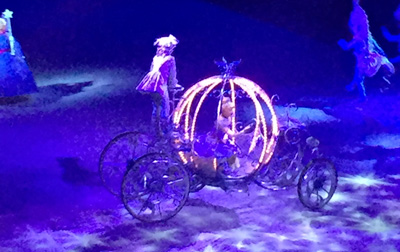 Rapunzel
My youngest granddaughter started jumping up and down with excitement when Rapunzel came out in the next act. We were amazed at how Maximus, the horse, seemed to be alive He looked and acted so real. I guess it's just part of the magic. The truly amazing part of this act was the gravity-defying aerial acrobatics performed by Rapunzel and Flynn. It was breathtaking.
Intermission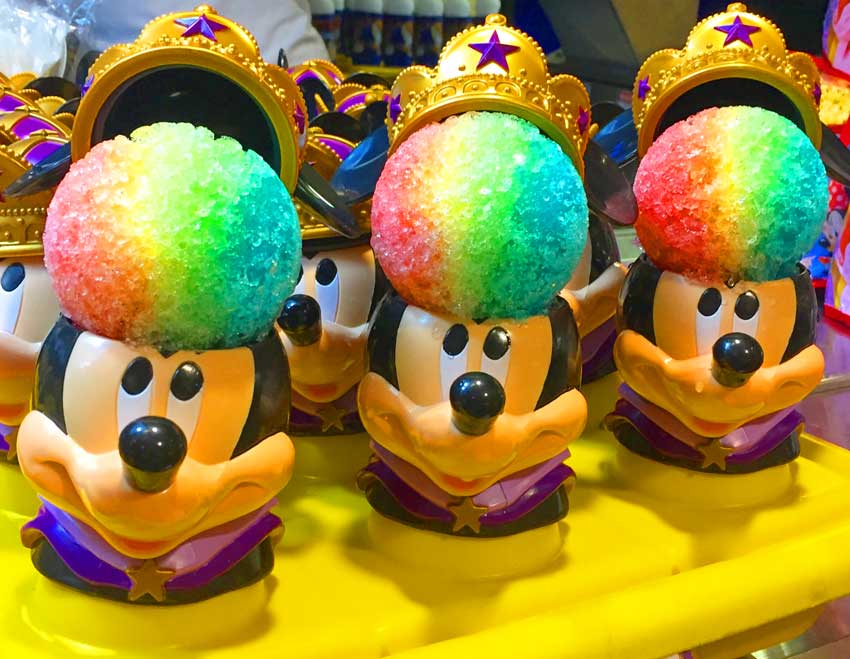 Favorite Grampy believes in keeping the grandkids full of candy and soda. This was all good because 1) it makes me the Favorite Grampy, 2) I had Grammy's credit card, and 3) I was taking them back home to their parents.  So at intermission, we load up on more of those delicious Disney snacks and drinks for the second half of the show and made it back to our seats without spilling anything
Frozen
The lights went down again and the audience was excited with anticipation. Next up was Frozen with Elsa, Anna, Kristoff, and Olaf. We all laughed when Olaf lost his head. Elsa sang Let it Go and I swear everyone in the arena was singing along.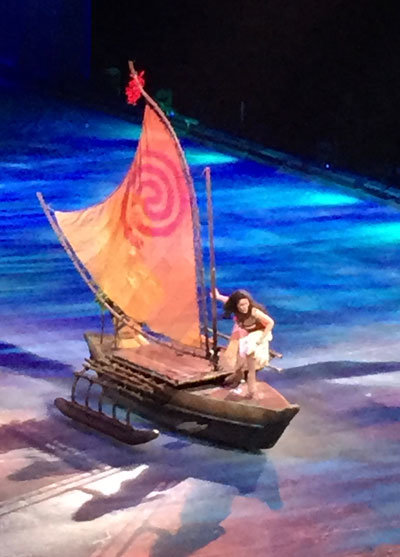 Moana
I must say they saved the best for last. Moana was the final Disney On Ice act. We followed Moana as she went on a quest with demigod Maui to save her island. We were in awe when the spirit of  Gramma Tala appeared. It was beautiful. We were happy as a crab when the big musical number, Shiny, with Tamatoa came on. All I can say is WOW. When Moana sang How Far I'll Go, the place was electrical. And did I mention there was fire? Yes, fire on the ice. How did Disney do that? Must have been magic.
The Curtain Call
At the end of the show, when the skaters and characters came out for their curtain call, the biggest cheer went to Mickey, Minnie, Donald, and Goofy as they took their final bow to end our magical evening. We were hoping it would never end.
Making Disney Memories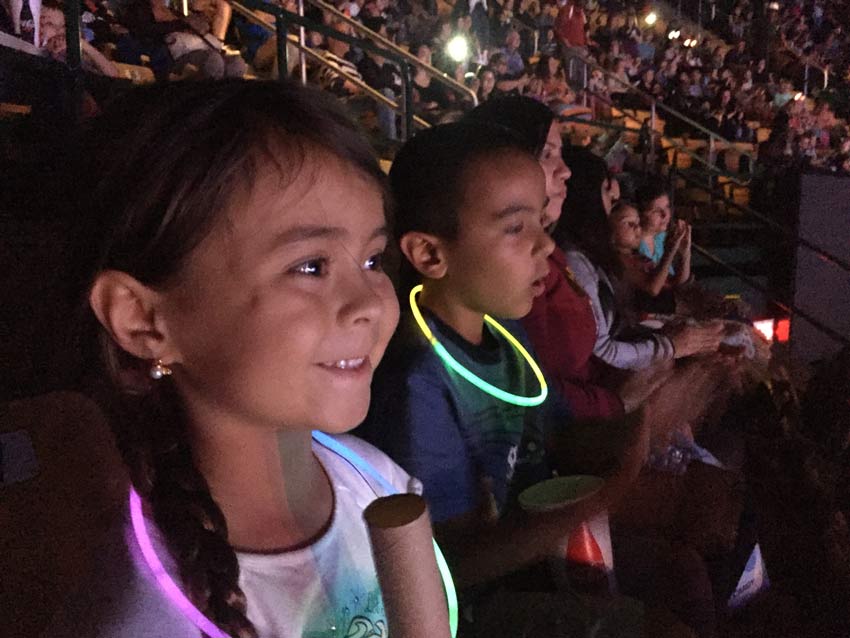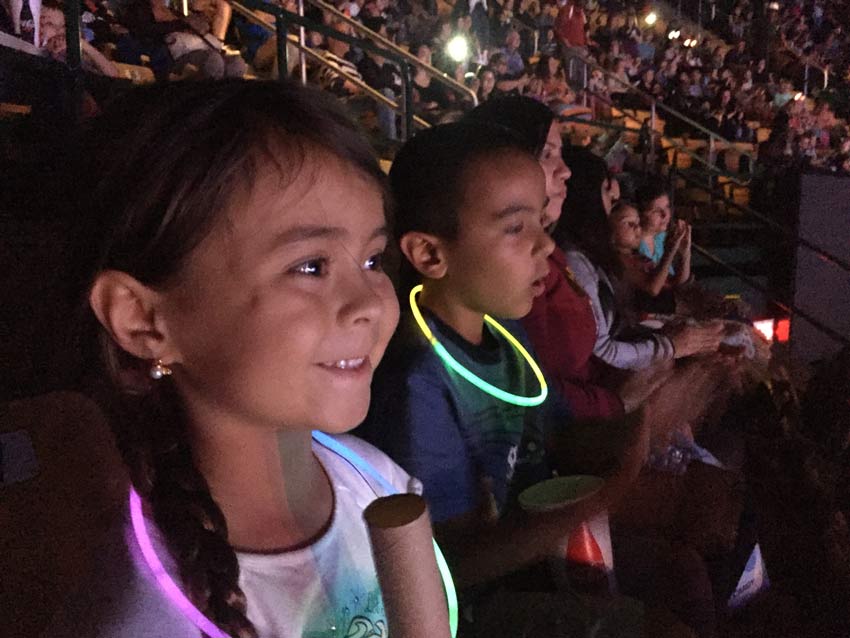 At many points during the Disney on Ice performances, I looked over at the kids. The reactions on their faces and the wonder in their eyes were priceless as they saw their favorite Disney stories unfold on the ice.  And when they were singing along with all the familiar Disney songs they had grown up with, well, it brought a great joy to my heart thinking of the time we were spending together.
The Disney on Ice performance was fantastic, the costumes were stunning, and the skating was wonderful. It was a performance for children of all ages. We will definitely go again to another Disney on Ice show.
On the drive back home the kids couldn't stop talking about the show, their favorite parts, and the Disney Princesses.  I played more Disney music to keep the magic alive.
Favorite Grampy and the grandkids had the time of our lives sharing this special time together and making memories that will last a lifetime.
Make your own Disney memories with your family by going to www.DisneyOnIce.com to see which Disney On Ice show might be coming to your area.
Have you gone to a Disney on Ice show? I would love to hear your story in the comments below.