Toy Story 4 is an Emotional Roller Coaster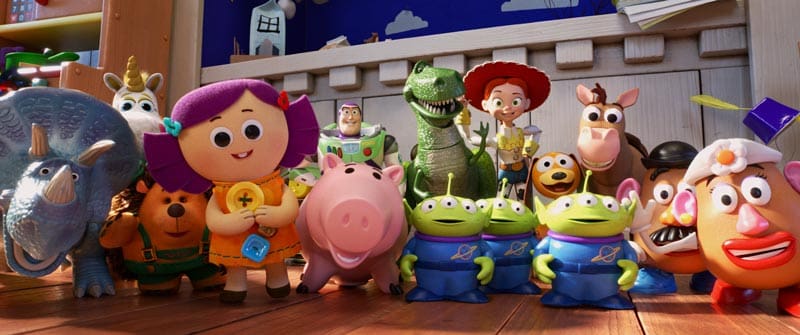 Toy Story Characters Delight Us Again
Favorite Grampy here! I had a blast watching an advance screening of Toy Story 4 yesterday. I even got to bring 4 of the grandkids! The two littlest dressed up as a Green Army Man and a Cow Girl.
Against their parents wishes (muahahah) I loaded the kids up on slurpies, candy and popcorn. There was a slight delay on rolling the film so Grammy had just enough time to go get us all free refills. Thanks Grammy!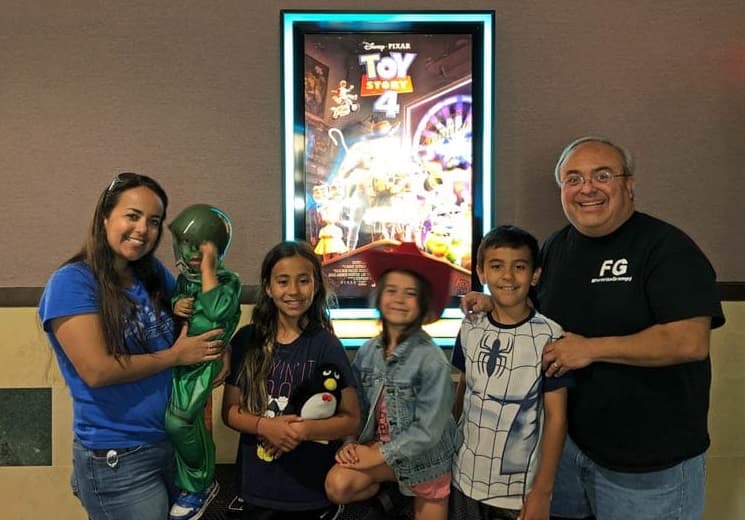 Okay, "It was a dark and stormy night………" No really, it was! Toy Story 4 starts out filling us in on what happened to Bo Peep 9 years prior to the movie taking place. We learn why she was separated from the other toys and we see how hard it was on Woody to let her go.
Fast forward those 9 years and we are in the present. The toys belong to Bonnie now and she is getting ready to head to Kindergarten orientation. Woody is concerned for her and that's where the fun begins with our new friend Forky!
I don't want to give away any more details but I do want to say things aren't always what they seem.
Woody and the toys go through lots of adventures trying to keep Forky safe on the family's road trip before school starts. While Forky plays a big part, the movie is really focused on Woody and his inner struggle with healing over the loss of Andy, dealing with the fact he's not Bonnie's favorite toy, and finding his new purpose in life.
Through twists and turns, we laugh, cry and even have a jump scare or two. Definitely bring tissues because the ending will release the waterworks. Oh and stay through the credits! Yes, there are a couple of scenes after the movie and one at the very end.
Favorite Things About Toy Story 4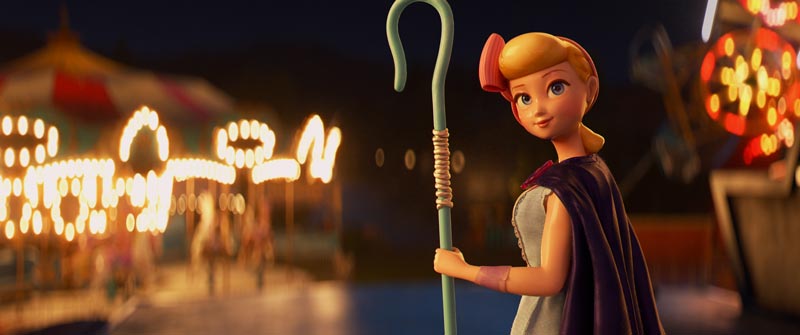 Bo Peep is a cool chick
Forky is hysterical
Love story with Woody and Bo
Learning about friendship and how your purpose in life can change from season to season.
Seeing all kinds of toys from our childhood in the antique shop where the movie takes place.
Final Thoughts
The kids and I LOVED Toy Story 4! I am so glad they decided to make this story to not only fill in the gaps from the previous movies but also take us on one more adventure with Woody, Buzz Lightyear, Hamm, Rex, and the whole gang.
The first Toy Story came out November 22, 1995. My daughter was just 11 years old. Now, 24 years later, I'm sitting in the theatre with Grammy, my daughter, her husband and 4 of my precious grandbabies.
These films have captured our hearts and it spans generations! Can't wait to see Toy Story 8 with my great grandkids!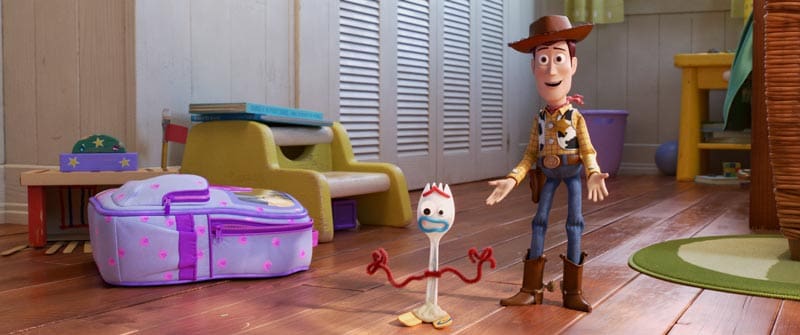 How To Make Forky From Toy Story 4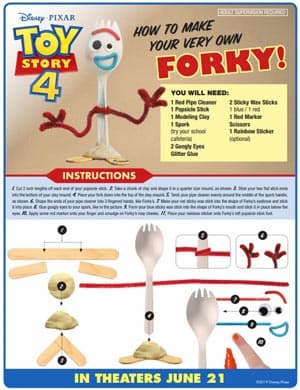 Want to make your very own trash, I mean toy Forky? Well you can, it's easy.
Just gather up the following trash:
1 Red Pipe Cleaner
1 Popsicle Stick
1 Modeling Clay
1 Spork (try your school cafeteria)
2 Googly Eyes Glitter Glue
2 Sticky Wax Sticks – 1 blue / 1 red
1 Red Marker
Scissors
1 Rainbow Sticker (optional)
Or you can always order a Forky online from Amazon. That's what Favorite Grampy would do.
FAQs
What is the release date of Toy Story 4?
The US release date for Toy Story 4 is June 21, 2019
What is the running time of Toy Story 4?
Toy Story 4 is 1 hour and 40 minutes long which includes the ending credits.
Are there post credit scenes in Toy Story 4?
Toy Story 4 has extra short scenes during the first part of the ending credits and one at the very end.
Toy Story Characters and Cast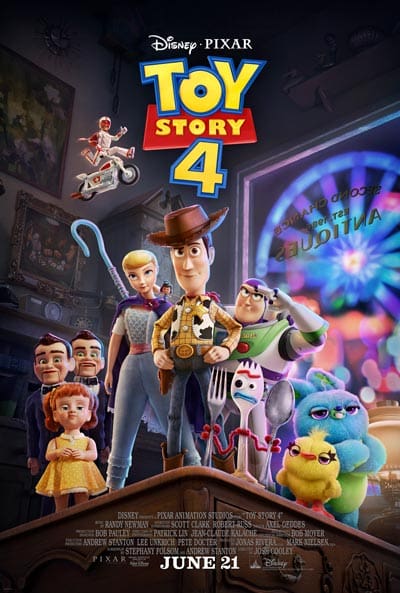 Woody: Tom Hanks
Buzz Lightyear: Tim Allen
Bo Peep: Annie Potts
Forky: Tony Hale
Ducky: Keegan-Michael Key
Bunny: Jordan Peele
Bonnie Anderson: Madeleine McGraw
Gabby Gabby: Christina Hendricks
Duke Caboom: Keanu Reeves
Giggle McDimples: Ally Maki
Mr. Anderson: Jay Hernandez
Mrs. Anderson: Lori Alan
Jessie: Joan Cusack
Dollie: Bonnie Hunt
Trixie: Kristen Schaal
Billy, Goat and Gruff: Emily Davis
Rex: Wallace Shawn
Hamm: John Ratzenberger
Slinky Dog: Blake Clark
Margaret the Store Owner: June Squibb
Combat Carls: Carl Weathers
Mr. Potato Head: Don Rickles
Mrs. Potato Head: Estelle Harris
Buttercup: Jeff Garlin
Mr. Pricklepants: Timothy Dalton
Barbie: Jodi Benson as Barb
Aliens: Jeff Pidgeon
Young Andy: John Morris
Older Andy: Jack McGraw a
Mrs. Davis: Laurie Metcalf
Melepant Brooks: Mel Brooks a
Chairol Burnett: Carol Burnett
Bitey White: Betty White
Carl Reineroceros: Carl Reiner
Toy Story 4 Trailer
(Disney invited me to Toy Story 4, and in exchange for my time and efforts in attending the advance screening and reporting my opinion within this blog. Even though I receive these benefits, I always give an opinion that is 100% Favorite Grampy. Also, there may be affiliate links in this post where I will earn a small commission if a purchase is made.)