Incredibles 2 is a Super Incredible Sequel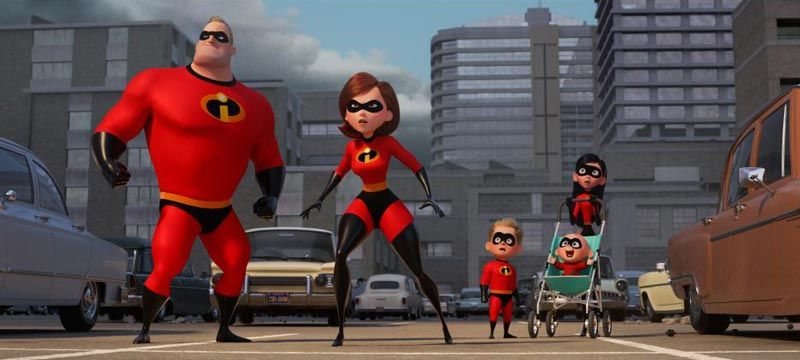 Let's Go Watch a Movie Kids
So what's a Favorite Grampy to do when Disney gives him tickets to an advance screening of Incredibles 2 at lunchtime on a school day? Take the grandkids out of school to watch the film of course.
The Incredibles Back on the Screen after 14 Years
Wow has it been 14 years since the Incredible movie first came out? Have we been waiting that long to see what The Underminer was going to do?
None of my grandkids were even born then yet they are huge Incredibles fans and couldn't wait to go with Favorite Grampy to see the new movie before all their friends.
Incredibles 2: The Story
The movie takes up right where it left off with the Parr family ready to take action against The Underminer. But after the Underminer incident, the Supers are once again forced back to their secret identities.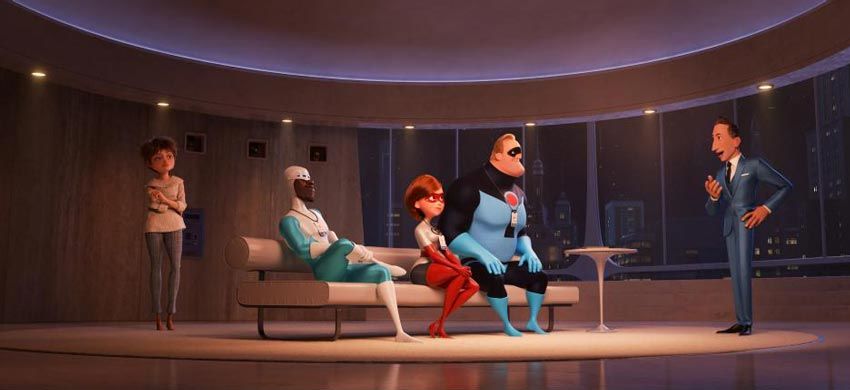 Then Helen (Elastigirl) is called on to lead a campaign to bring Supers back, while Bob (Mr. Incredible) becomes a stay-at-home dad with Violet, Dash and baby Jack-Jack—whose super powers are about to be revealed. The mission to bring back Supers doesn't go as planned when a new villain emerges with an evil plot that threatens the world. But the Incredibles take on the challenge with Frozone by their side.
Throughout the movie, each character has their own struggles to overcome. Viewers are likely to relate personally with at least one or more characters. Besides Bob's obvious failure to run a smooth ship at home while Helen is out saving the world, Violet is having boy troubles, Helen is dealing with finding a balance between work and home life, Dash is always getting into mischief and Jack-Jack……well, you'll see.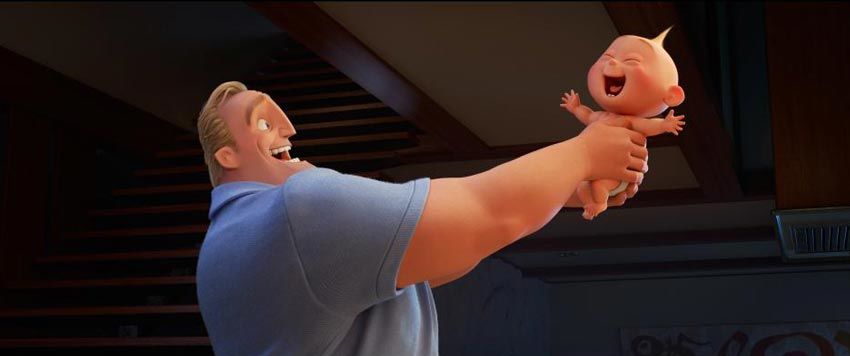 Our Favorite Parts of the Movie
The animation was incredible, the characters were incredible, the story was incredible, overall the whole movie was incredible. Yes, Incredible about sums it up.
My granddaughters will tell you their favorite scene has to do with Jack-Jack and one scrappy raccoon who is about to be the first victim of Jack Jack's new powers. The audience was roaring with laughter!
My grandson loved the Parr's new house and says it reminds him a lot of Iron Man's house with all the cool gadgets and secrets.
My daughter (Mom) could really relate to Helen and her struggle to enjoy her career but not at the expense of her family.
There were some really funny parts as Bob tried to step up and fill Helen's shoes at home, not realizing how much mom actually did to keep their home running smoothly.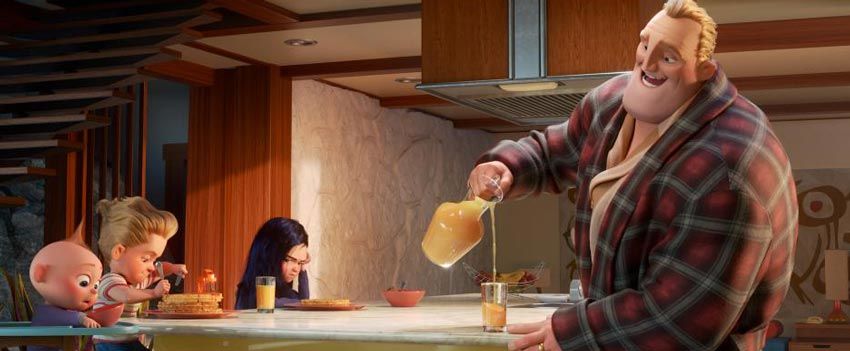 Grammy loved that Edna was back and she was on her game! She had a small part in this movie but came out in a big way. Edna's scenes were hysterical! No capes!
I liked the waffles! Hey, it's food and Favorite Grampy is all about food. Those waffles looked so good I wanted to reach up and grab them off the screen and stuff them in my mouth. And the film was not even in 3D! Awesome animation.
Speaking of animation, Violet's hair was incredible in Incredibles 2. In the first Incredibles movie, I heard that she was bald until just before the movie was released. Pixar was having a problem with getting Violet's hair just right. They had to invent the hair technology. In this film, they got the hair down and the artists at Pixar flaunted their handiwork in the blowdryer scene. Keep your eye out for that.
Great New Characters
Besides our favorite characters, there are a few new characters in Incredibles 2. Here is a breakdown of three of them.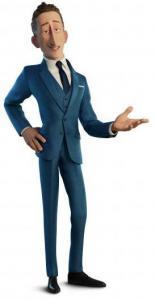 Winston Deavor – Winson is a big superhero fan and CEO of DEVTECH, a telecommunications company. Wilson's dream is to bring back "Supers" by changing the public's perception of them so Supers can be legal again.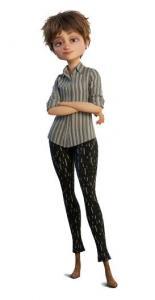 Evelyn Deavor – Evelyn is Winston's sister and works side by side with him. She is a technological genius who can solve any problem. Evelyn designs the tech at DEVTECH.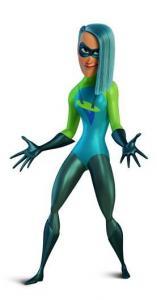 Voyd – Voyd is Elastigirl's biggest fan who aspires to be a superhero herself. She has the power of creating voids out of thin air where objects can appear, disappear, and fall into the voids.
The Kids (and Adults) Will Love Incredibles 2
Is Incredibles 2 okay for small children? Well, the film is rated PG. There is lots of action in the film, some cartoon violence, realistic-looking guns, and some alcoholic beverages. Nothing stood out about the language to me.
So my answer to the question is YES, its fine for my small children. My grandkids range in age from 2 years old to 11 years old.
The grandkids, Favorite Grammy, Grammy, and Mom all loved the movie. We are going to watch it again and take some of their friends too so I can continue to make memories with my family.
In Favorite Grampy's and his family's opinion, Incredibles 2 was truly incredible and a must see. I have to buy the movie when it comes out so we can see it over and over again. You know how kids are (and Favorite Grampy).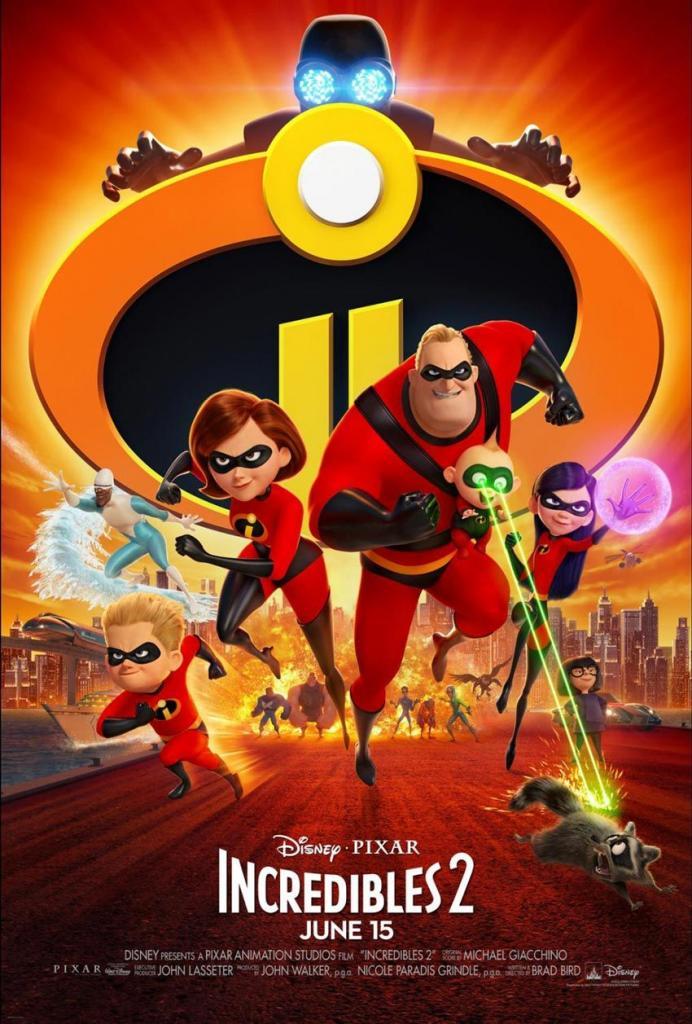 INCREDIBLES 2
DISNEY•PIXAR
Website: https://disney.com/incredibles2
YouTube: https://www.youtube.com/DisneyPixar
Facebook: https://www.facebook.com/PixarTheIncredibles/
Twitter: https://twitter.com/TheIncredibles
Instagram: https://www.instagram.com/theincredibles/
U.S. Release Date: June 15, 2018
Movie Runtime: 118 Minutes
List of The Incredibles 2 Cast:
Character: Voice Actor
Mr. Incredible / Bob Parr: Craig T. Nelson
Mrs. Incredible / Hellen Parr / Elastigirl: Holly Hunter
Violet Parr: Sarah Vowell
Dash Parr: Huck Milner
Lucius Best / Frosone: Samuel L. Jackson
Edna Mode: Brad Bird
Winston Deavor: Bob Odenkirk
Evelyn Deavor: Catherine Keener
Rick Dicker – Government Agent: Jonathan Banks
Voyd: Sophia Bush
The Ambassador: Isabella Rossellini
The Underminer: John Ratzenberger
Director: Brad Bird
Written by: Brad Bird
Producers: John Walker, Nicole Grindle