Disney On Ice presents Frozen | Favorite Grampy's Review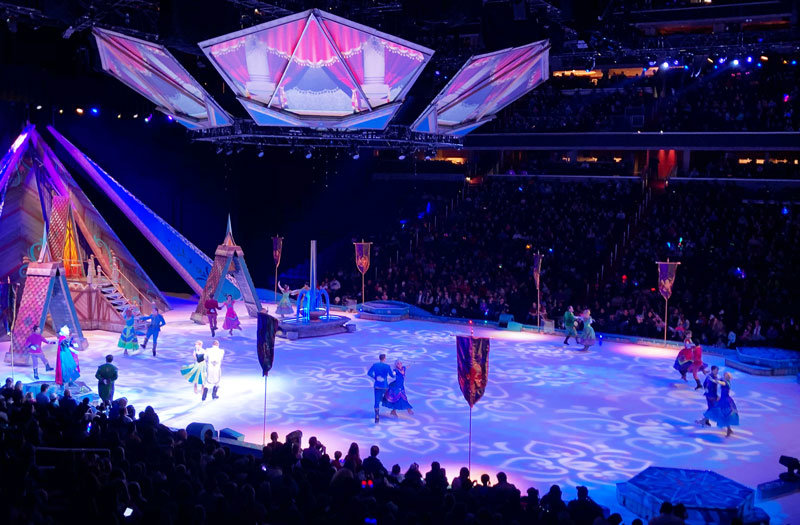 When I heard that Disney On Ice presents Frozen was coming to our area Favorite Grampy just had to take the grandkids to the show.  On show night Grammy and I picked up the kids, told their parents not to wait up for us, and headed to the arena.
Last time we went to Disney On Ice I surprised the grandkids so they didn't know where they were going until we got there.  This time I told them ahead of time so they could wear their princess costumes. I highly suggest when you go to have the children dress up.  It adds to the fun.
On the drive to the show, to get into the right mood which is very important, we played the Frozen soundtrack. The car was rockin' and the kids were jazzed.
Frozen VIP Party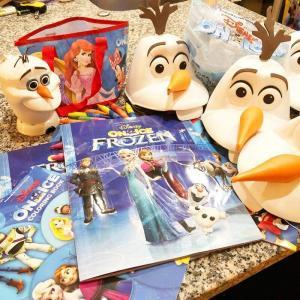 What I didn't tell the grandkids was that Favorite Grampy had scored an invite to a special Frozen VIP party before the show. As we walked in they were in awe of the decorations, balloons, and goodies that filled the room. We got programs, Frozen coloring books, and Olaf hats. The kids got their faces painted too.
There was "Frozen" water, blue hot chocolate, snowflake cookies and since it was also valentines day, heart-shaped sandwiches and watermelon plus more. Each of the kids must have eaten 5 of those snowflake sugar cookies. And they weren't small! On top of that there were all the other goodies they managed to put away. Maybe Favorite Grampy ate a lot too.
But that wasn't everything. All of a sudden we hear cheering and clapping so we all look up and guess who is walking into the room, Mickey Mouse!! He surprised us all.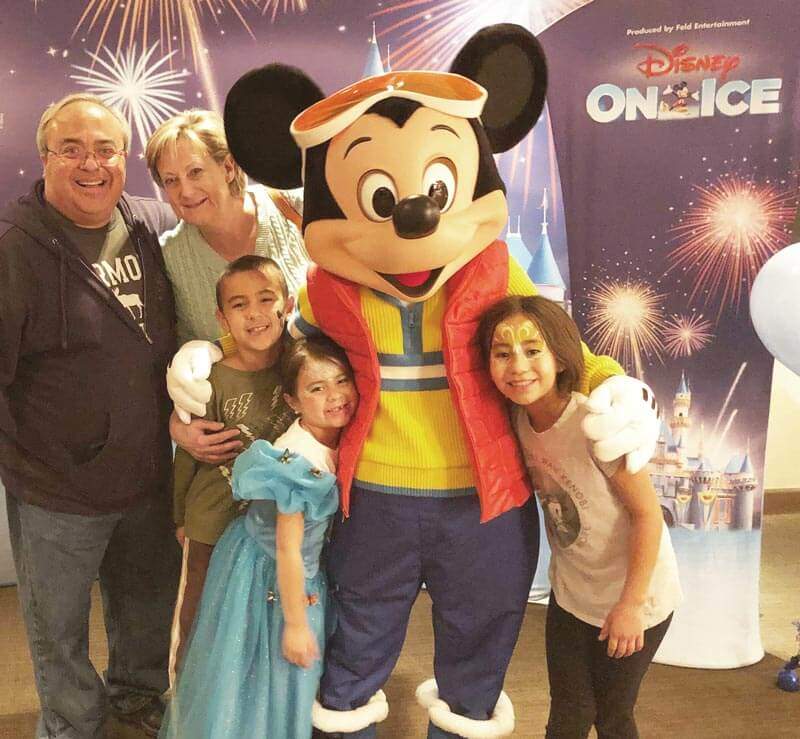 What a magical way to start out the evening. Would have been happy with just this awesome party but the best was yet to come.
Oh, and after the party and before the show Favorite grampy had to load the kids up with more snacks. So we stopped at the concession stand loaded up on cotton candy, hot dogs, soft pretzels, and soda. Can't watch the show without snacks no matter how much stuff you've eaten before. Have to keep the kids wired up you know.
Disney On Ice presents Frozen
Our seats were great.  We were five rows up from the ice and the skaters. As the lights went down and the music went up we were transported into the magical Kingdom of Arendell.
The nice thing about Disney On Ice presents Frozen is that they take you on a magical journey that includes the whole story and music.  How great is that?
What was really amazing is that it actually snowed in the arena. Can you believe it? There was even a blizzard!
One of our favorite musical numbers was In Summer. Who doesn't love Olaf?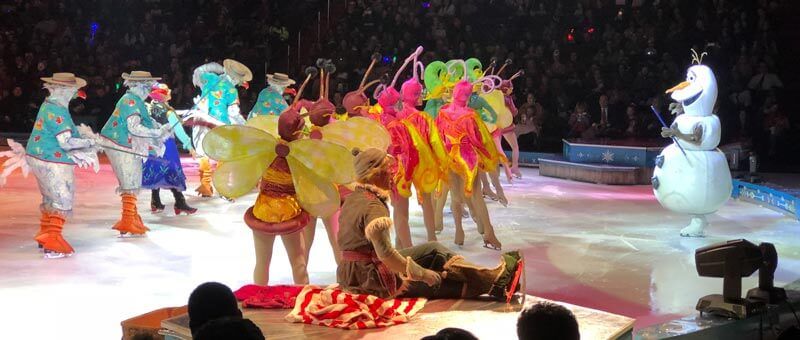 Sven, Kristoff's reindeer, is amazing. Or maybe Kristoff is Sven's human. Either way, how do the skaters in Sven do it? It takes two of them to bring Sven to life and one of them can't even see! And Sven dances.
Oh yeah, it's that Disney magic.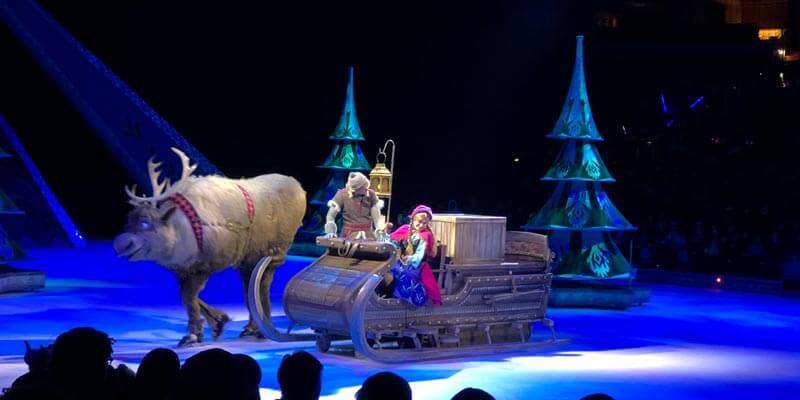 Of course, the big number was Let it Go.  You could feel, and hear, the excitement in the air as Elsa started to sing and skate around the ice. Everyone was singing. Emily, the oldest grandchild, even had to take her retainer out as she sang along with 'Let it Go". There was no holding back for her with that song. She also did the hand jesters.
As a matter of fact, the kids were singing along with all the songs….. and maybe Favorite grampy too.  It was fun for Grammy and me to see how much they were enjoying the show. It warmed our hearts. Kind of like Olaf's warm hugs.
Marshmallow the ice monster was fantastic and gigantic. When he first came out you weren't sure what was going on. There was just a pile of snow that we saw on the ice.
But then something happened, it started to grow.  It got bigger and bigger.  One arm started to appear, then another. Claws made of icicles formed along with giant ice spikes on it's back. Then his head appeared with fangs of ice. He became a hulking behemoth with cold icy breath as he chased our heroes around the ice. It was awesome!!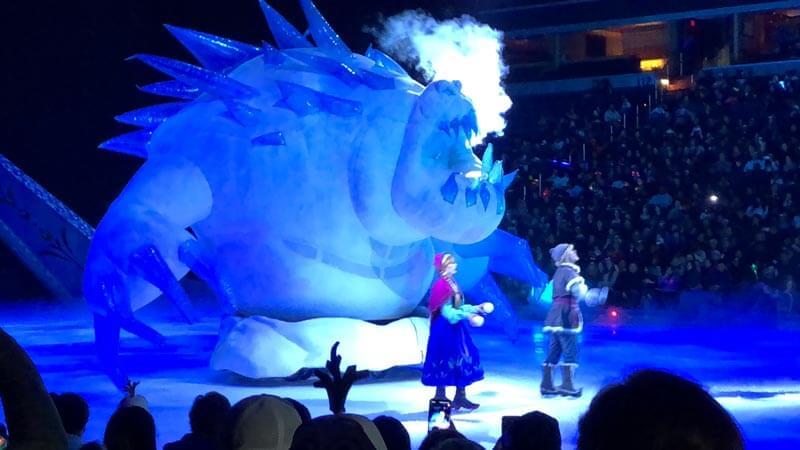 I highly suggest taking the family to go see Disney On Ice presents Frozen. Your family will love it.
The Night Had to End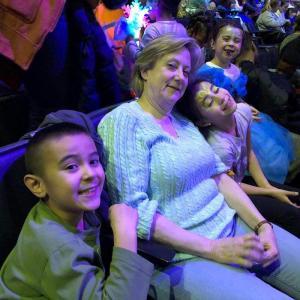 On the drive home, we had fun talking about our favorite parts of the show. When we finally got home it was almost 11 o'clock on a school night but the kids still took the time to fill in their parents on all the amazing things they saw and did. I think mom and dad were jealous they didn't go. Maybe I'll take them next time.
As we tucked the kiddos in for the night they said, "Thank you Grampy and Grammy for making memories with us. We love you." That's what it's all about.
Go make some memories with your family.
(I am a Feld Family Ambassador, and in exchange for my time and efforts in attending shows and reporting my opinion within this blog, as well as keeping you advised of the latest discount offers, Feld Entertainment has provided me with complimentary tickets to Feld shows and opportunities to attend private Feld pre-Show events. Even though I receive these benefits, I always give an opinion that is 100% Favorite Grampy.)