'Black Panther' Review | Favorite Grampy Rates It 5 Stars
Favorite Grampy loves Marvel Studios' superheroes so when Disney invited me to attend an advanced screening of Black Panther I jumped at it. PlusView Post, it was in IMAX 3D.  It doesn't get any better.
Unfortunately, I had to leave Grammy and the grandkids behind for this special screening, but they'll get over it.  We had planned to see it next week anyway.
I first saw Black Panther in his movie debut in Captain America: Civil War and thought he was great. I'm glad Marvel decided to give him his own movie.
Who is Black Panther?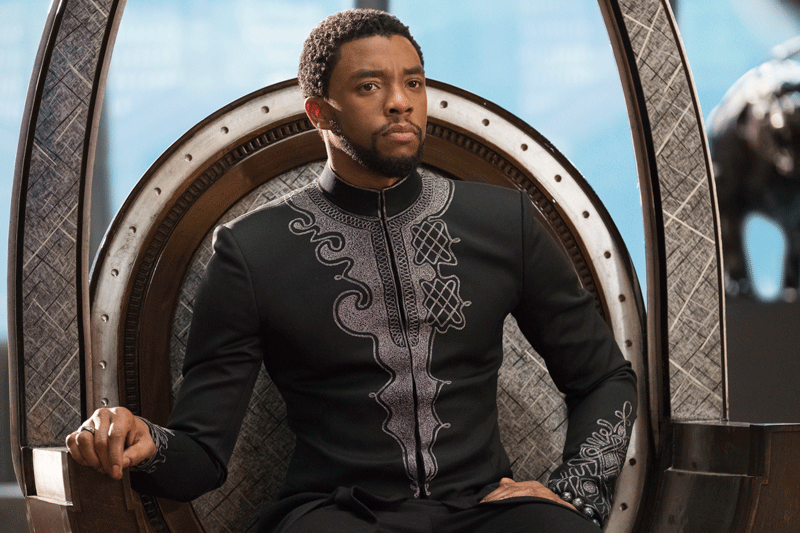 Favorite Grampy didn't know too much about the Black Panther Superhero so I did a little digging.  Let me share it with you.
Black Panther first appeared in 1966 in Marvel's comic book entitled, Fantastic Four Vol.1 Issue 52. The Black Panther's real name is T'Challa. He is the king and protector of the fictional African nation of Wakanda. T'Challa/Black Panther gets his superpowers by eating a special heart-shaped herb. This gives him superhuman senses, enhanced speed, strength, reflexes, and stamina. Since T'Challa is a descendant of royal worriers, he is a master of armed and unarmed combat.
Black Panther the Movie
My expectations were high for this film having heard all the hype and I have to say it exceeded all my expectations.
There were lots of things to like about Black Panther. One is how this movie really dives deep to develop the character of the Black Panther. You don't need to know anything about the character as the film tells you of the history of Wakanda, Vibranium and T'Challa's backstory.
The film starts out telling us that millions of years ago a meteorite made up of Vibranium crashed and how it affected our planet.  It told us of 5 tribes at constant war, visions of the Panther Goddess and of the heart-shaped herb and the first Black Panther. Of how the Wakanda nation isolated themselves and developed amazing technology from the Vibranium. The world around them was in chaos but the tribes vowed to hide in plain sight to keep the Vibranium safe.
We learn that after the death of his father, the King of Wakanda, Prince T'Challa, played by Chadwick Boseman, returns home to the African nation of Wakanda so he can take his place as King. But a powerful old enemy reappears and tests T'Challa's mettle as king—and Black Panther. He is lead on an adventure that not only puts the fate of Wakanda at risk but the fate of the entire world. The new king must rally his allies and release the power of Black Panther to defeat his enemies and ensure the safety of millions of Wakandans and their way of life.
Shuri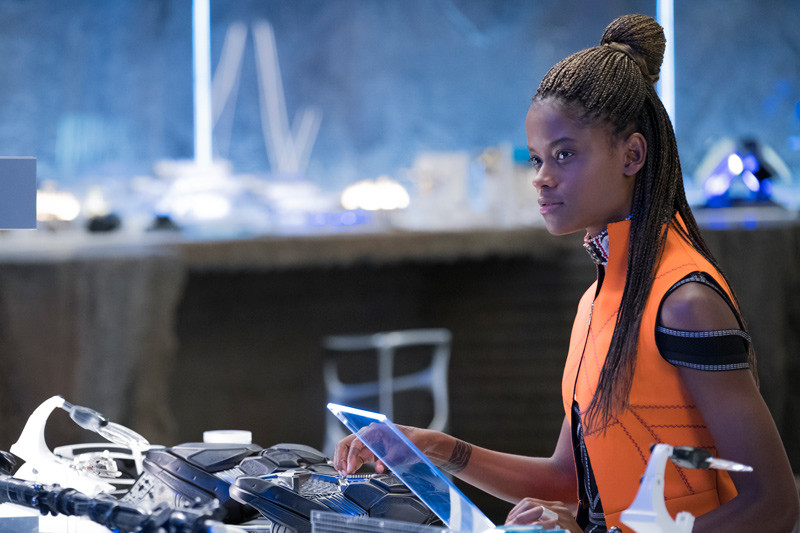 Now let me tell you about some of my favorite characters. Black Panther is at the top of my list but next in line is Shuri, T'Challa/Black Panther's little sister played by Letitia Wright. I think her superpower is her smarts. She is Wakanda's leading scientist and comes up with all sorts of advanced technology using Vibranium.
I'm a big James Bond fan so I could not help but notice how Shuri reminded me of Q in one scene.  In that scene, she showed T'Challa all the new super high-tech Vibranium gadgets she developed for him to use when he was out in the field. Just like Q does with Bond. It was a fun scene and you got to know Shuri better.
And of course, since Shuri has royal blood in her because her father was king of Wakanda that makes her a Disney princess!!
The Dora Milaje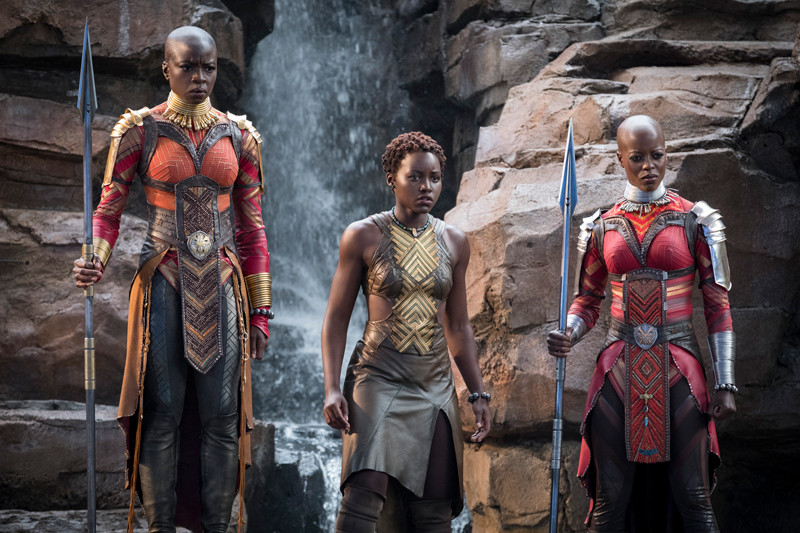 The Dora Milaje were impressive. They are the all-female royal guard to the King. These tall, bald-headed warrior women were tough. General Okoye, played by Danai Gurira, is the leader of the Dora Milaje and King T'Challa's personal bodyguard. She has a commanding on-screen presence. I'm not sure who was tougher, her or the Black Panther.
The Villains
There are plenty of bad guys to go around. The main villain is Erik Killmonger, played by Michael B. Jordan. He is just pure evil and really hates Black Panther. I liked that the writers took the time to develop his character.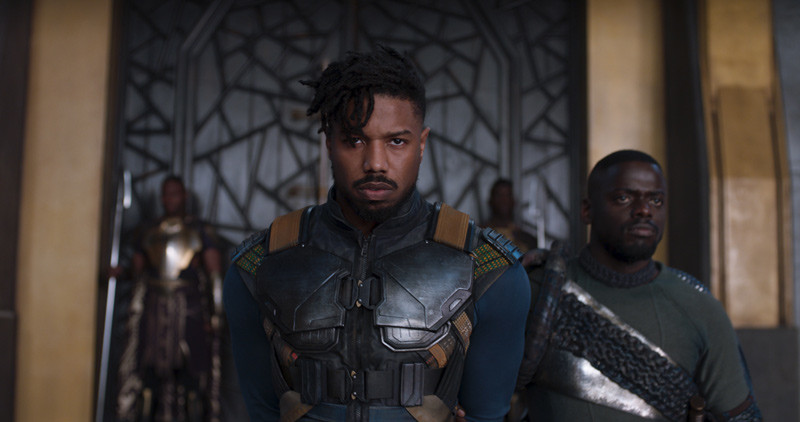 The other villains weren't much nicer such as the weapons dealer, Ulysses Klaue. He was nasty. There are also a few other unsavory and traitorous characters. All in all, a very nice mix of bad guys.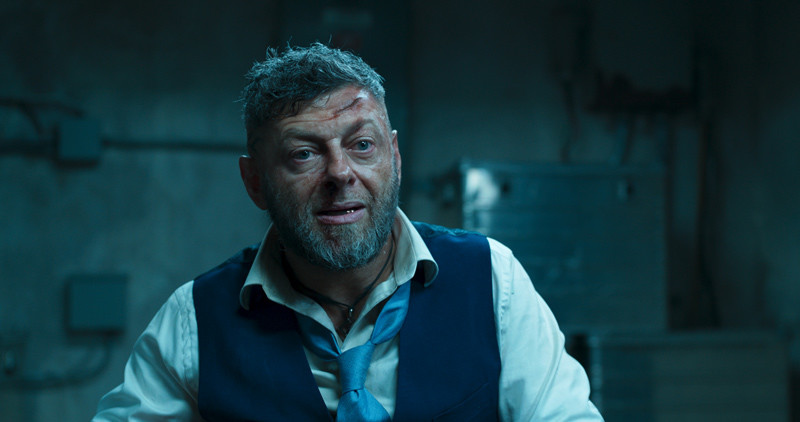 When Stan Lee made his cameo, the crowd cheered. As a matter of fact, there was a lot of cheering throughout the film for the heroes.  I love seeing movies at the theater because of how the audience gets drawn into the action.
Stay for the Credits
People started to leave as the credits started to roll. DON'T LEAVE!! Make sure you stay for the credits. There is a scene that comes on after about two minutes into the credits. But don't leave after that either because there is a surprise scene at the very end of all the credits you just can't miss.
Black Panther Final Thoughts
The story is excellent, the acting is great, the action is amazing, the villains are really bad, the special effects are extreme, the high-speed car chase is mind-blowing, the fight scenes keep you on the edge of your seat, Stan Lee makes his cameo, and the movie makes you think.
Black Panther is a must-see Marvel movie that's going to break box office records. I can't wait to see it again with the family.
Oh, and did I mention the armored rhinos?
BLACK PANTHER
MARVEL STUDIOS
Website and Mobile site: http://www.marvel.com
Like us on Facebook: http://www.facebook.com/marvelstudios
Follow us on Twitter:  http://www.twitter.com/marvelstudios
Instagram: http://www.instagram.com/marvelstudios
Genre:                            Action-Adventure
Rating:                          PG-13
U.S. Release date:        February 16, 2018
Running Time:               134 min.
Cast:                              Chadwick Boseman, Michael B. Jordan, Lupita Nyong'o, Danai Gurira, Martin Freeman, Daniel Kaluuya, Letitia Wright, Winston Duke, with Angela Bassett, with Forest Whitaker, and Andy Serkis
Director:                         Ryan Coogler
Producer:                      Kevin Feige
Executive Producers:     Louis D'Esposito, Victoria Alonso, Nate Moore, Jeffrey Chernov, Stan Lee
Screenplay by:              Ryan Coogler & Joe Robert Cole