7 Best Tips to Keep You Cool at Walt Disney World
Florida is known as the sunshine state. Come the summer months (and at many times during the year) that sunshine brings a boatload of heat and humidity to match. So the obvious solution to deal with the sweltering summer temperatures is to, well, just not deal with the sweltering summer temperatures by not traveling during the summer months. Right?
Wrong!
There are plenty of ways to beat the heat and have an awesome summer vacation in Walt Disney World! We are sharing our top tips for keeping your cool at the "Most Magical Place on Earth".
Here are our top 6 tips for staying cool in Walt Disney World.
Tip 1: Keeping Cool on Your Disney World Vacation Starts Before You Even Leave Home: Planning Your Itinerary
We highly recommend scheduling mid-day breaks. The hottest part of the day is between noon and 5pm. The sun is very intense, so when you start scheduling your fast passes and dining reservations you may want to avoid this time of day.
Head back to your hotel to enjoy the pool, a nap, AC and all your fabulous Disney resort amenities. All the Disney hotels, and most of the offsite hotels, have great pools! This is the perfect time to enjoy that resort which you put so much thought into choosing.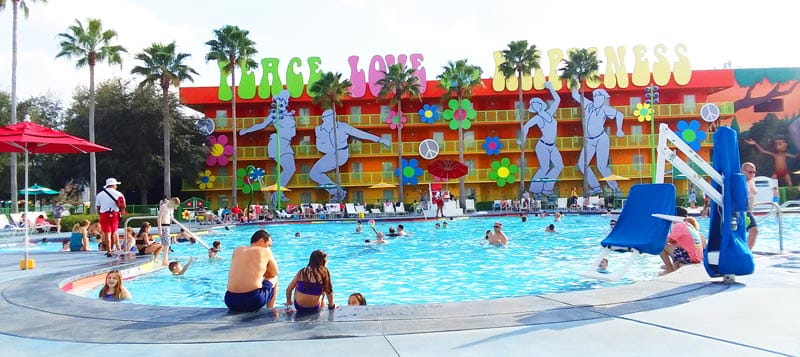 Staying on-site at a Walt Disney World hotel will certainly make mid-day breaks much easier. Plus, you get Extra Magic Hour access which exclusively allows Disney resort guests entry into certain parks outside of public operating hours. This means you can spend more time in the parks out of the mid-day scorch.
If you cannot get out of the parks completely, plan indoor air-conditioned attractions in the middle of the day in the parks. You could also hop over to a resort near the park and explore the air conditioned lobbies and gift shops for a bit.
The parks tend to be the most crowded mid-day, so in addition to beating the heat you will be beating the crowds.
Tip 2: BYOW- Bring Your Own Water
You will be consuming a lot of water to stay hydrated, much more than you normally do. Bottled water in the parks is not cheap. We suggest carrying collapsible water bottles so you can refill them on the go. Disney has been adding refill stations throughout the parks.
Another option is asking for ice water at counter service locations that serve fountain beverages. They will give you a cup of free ice water. YES FREE! You will also find some locations will have ice water set up in large pitchers where you can serve yourself, including in many hotel lobbies.
I know many people worry about the taste of Florida tap water but remember this is the same filtered water that is being used in all the fountain beverages and ice you consume while there, and honestly, I think it tastes fine. Plus, did I mention it is free?
If you prefer to purchase bottled beverages (after all sometimes there is nothing like an ice-cold Powerade) purchase the beverage in a gift shop so you can use any applicable discounts like an annual pass or DVC discount. If you purchase from the snack carts or at most quick-service restaurants, those items are not eligible for discounts.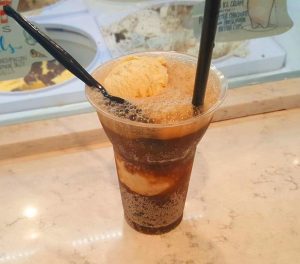 Tip 3: Snack often
The heat and humidity combined with a lot of walking can lead to being hangry very quickly. Make sure you are mindful of your dietary needs. If you have any medical conditions like diabetes or high blood pressure, you may want to chat with your doctor about how the heat and additional exercise may affect you.
We like to pack small, durable snacks like nuts, rice Krispy treats and granola bars in our park bag to have handy should anyone determine they need a quick pick me up on the go or while in line.
Limit alcohol consumption. Those frozen treats in EPCOT may look appealing but remember alcohol and dehydration do not play well together.
Tip 4: Dress and Prep Accordingly
Check the forecast and make sure you are wearing weather appropriate clothing and footwear. This includes all layers of clothing you are choosing. You will sweat, A LOT. Choose a fabric that is light a breathable.
A hat and sunglasses are absolute musts for keeping the sun (and the sweat) out of your eyes. Choose comfortable, broken-in shoes. Make sure you alternate pairs, particularly if you get your sneakers wet, so they can dry out.
If you hate hot feet like me, you may want to invest in a good pair of walking sandals, NOT CHEAP FLIP FLOPS. Proper sandals with support and a strap in the back are ideal. Be sure these are broken in well before your trip too.
Wear Sunscreen. Nothing cranks up the heat like a bad sunburn. Even if you do not normally burn do not underestimate how strong the sun is. You can get burned on a cloudy day.
Tip 5: Shade and Air Conditioning are Your Friends
Go out of your way to spend time in the shade or in air-conditioned spaces. Even if you are just stopping to check the park map, step into a shop or shaded area.
Enjoy rides and attractions that are indoor and air conditioned. Enjoy a table service meal out of the heat mid-day. Every time you have an opportunity to get out of the sun and into the AC, take it. You will find that all four Walt Disney World theme parks have indoor shows and attractions, and generously air-conditioned gift shops.
Most Gift shops have multiple entrances so you can often walk through a gift shop and enjoy a few minutes of AC. This trick works great on Main Street USA in the Magic Kingdom. You can walk all the way from The Emporium at the beginning of Town Square, all the way through the row of shops, popping out near Cinderella Castle. Stay out of the sun and enjoy the AC the whole way.
Tip 6: Cooling Gadgets
There are a wide variety of summer cooling products available. We prefer a cooling towel, while many folks swear by portable fans. Take what works for you.
Walt Disney World sells gadgets like misting fans in the theme parks. Be sure to leave a little wiggle room in your budget in case you forget something you need like sunblock, or if you just can't resist those misting fans Disney so temptingly has available for sale in ice carts around the theme parks.
Tip 7: What's Your Tip?
For tip number 7 we want to hear from you. How do you keep cool at Disney World? Share your tips with everyone in the comments below to help keep us all cool.
---
We hope these tips help you beat the heat & humidity in Walt Disney World theme parks.
From Our Happy Place to Yours, Have a Magical Day!