Rental Strollers for a Magical Ride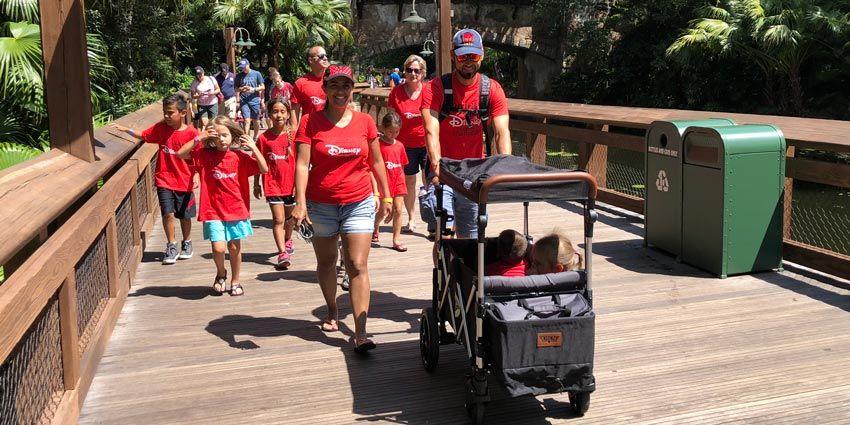 You all know how Favorite Grampy loves to go to Walt Disney World with the grandkids. Well, we recently went down to Orlando for a 10 Day stay at the parks. Some of the family flew down and some of us drove.
As you can imagine with 7 grandchildren, ranging in ages from 2 to 11 years old, we have to carry a lot of stuff. The space in our van was limited since there was 8 of us plus our luggage. Flying in with extra stuff is no fun either for the other four family members.
With that many kids, we must have at least one double stroller, if not two. We even thought about renting a stroller every morning from each Disney park we visited but we quickly found out there were some major drawbacks when doing this.
Stroller Not Comfortable: The park strollers are made of hard plastic so they are not very comfortable. The kids were complaining almost immediately.
Stroller Does Not Recline: If you have a little one that needs to nap, it is almost impossible in one of those Disney strollers.
Stroller Has No Place To Carry Extra Stuff: Grampy loves to buy gifts for all the grandkids. If I rent this stroller, I will have to carry all those extra bags myself. That's a big NO. It doesn't even have a cup holder!
Stroller Must Stay In The Park: The strollers are only for use while you are in the park. You can't take them out of the park. When the kids fall asleep at the end of the night, we would not only have to wake them up but carry them to the car or bus too. Favorite Grampy is old and can't do that.
The Solution To Favorite Grampy's Stroller Problem
Did you know you can rent a stroller to use anywhere on your vacation? From Walt Disney World to Sea World to Universal Studios, your rented stroller can come along with you.
To meet my family's needs, we ended up renting an extra stroller in Orlando. Mark from the stroller rental company actually met us at our resort, Disney's Yacht Club, and delivered the stroller to us. Mark was like our own personal stroller concierge! He explained to us how to use it and showed us the extras it came with. It had a canopy, cooler, rain cover and even a matching cupholder!
Did I mention it had a cooler? It kept our water bottles cold which is especially important on hot Florida days. Here's a pro tip, freeze some bottles of water and mix them in with the other water bottles.  It will help keep your water cold.
But Favorite Grampy doesn't get any ordinary stroller. No. His grandbabies only get the coolest. Favorite Grampy got the Keenz Stroller Wagon and IT WAS AWESOME!
Are Wagons Allowed At Walt Disney World?
[su_box title="UPDATE" box_color="#1c5a9c"]As of May 1, 2019 The Walt Disney Resort and Disneyland have changed their rules for Wagon Strollers and they are now specifically prohibited inside the parks. Wagon Strollers are still allowed at Universal Studios and Sea World in Orlando.[/su_box]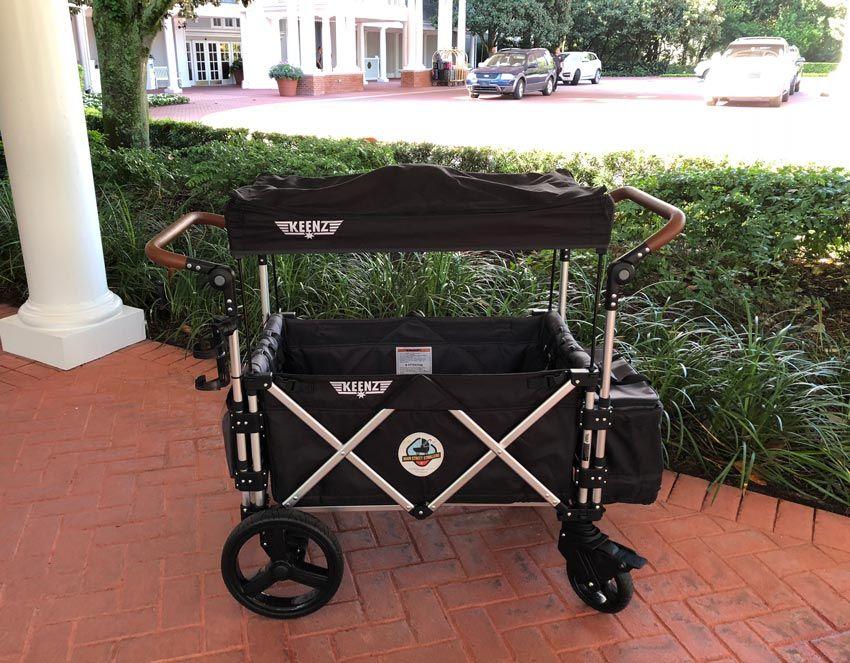 When we went on our Disney vacation stroller wagons were approved for use in the Parks. Unfortunatly as of May 1, 2019 stroler wagons are no longer allowed in Disney Parks.
That's too bad because the wagon stroller is not much wider than a regular single stroller. Even though it is longer than a side by side double stroller, it handles better than a front to back (tandem) double child stroller. Best of both worlds!
Ever tried to go down aisles at the gift shops in a double-wide stroller? Not good. Have you ever tried to weave in and out of crowds with a tandem stroller? Not good either. With the Keenz Wagon Stroller you have the room of a side-by-side stroller but the footprint of a tandem stroller.
I'm glad they are still allowed in Universal Studios. We sure will get another wagon stroller from Main Street Strollers when we go next year.
The Mickey's No-So-Scary Halloween Party Candy Challenge
Now here's the fun part. We told Mark we would be going to Mickey's Not So Scary Halloween Party. The stroller would be great to carry the 2 small kids and the stash of candy for our 7 grandkids plus whatever else Favorite Grampy buys the grandchildren.
Mark thought that was an awesome idea and he bet me that we could not fill the entire wagon stroller full of trick-or-treat candy. Oh yea, Mark? Challenge accepted.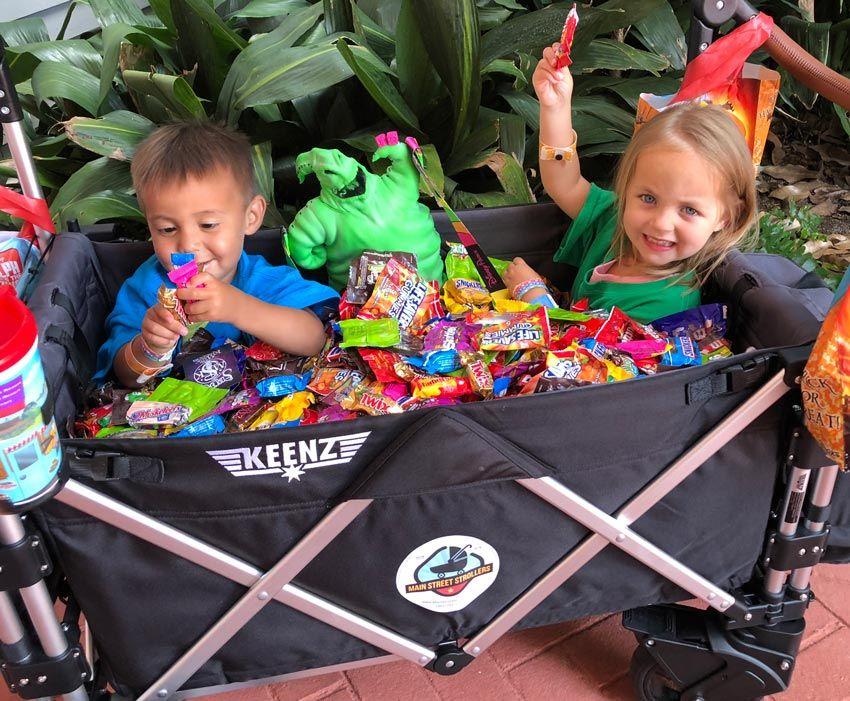 Silly Mark. He didn't understand that Grampy can't resist a challenge, especially one that involves food. We were able to fill the Keenz Stroller Wagon with over 30 pounds of Disney Halloween candy by 9pm. Challenge accomplished!! Favorite Grampy and the grandkids have enough candy to last a week or so now.  I love trick-or-treating at Disney!!
Renting A Stroller Is A No Brainer
One last thought. When your little one comes off their Dole Whip sugar high, the Keenz Stroller Wagon really comes in handy. It was plenty big enough for our toddler to lay down and take a much needed nap.
Wish they made these Favorite Grampy-sized. ZZZZZzzzzzzzz.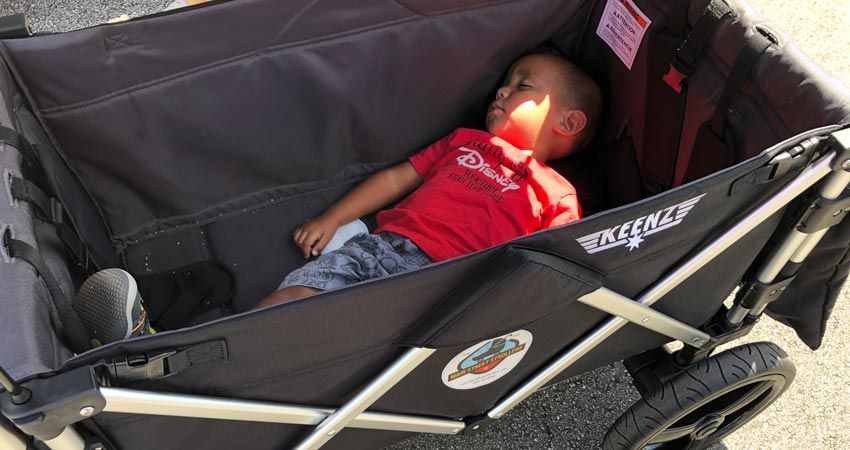 Tell me, do you rent or bring your own stroller to the Disney Parks?